|
|
|
|
Solid Carbide Micro Twist Drill, HSC, HHC, <52 HRC
Solid Carbide Micro Twist Drill, HSC, HHC, <52 HRC
39.15
From £39.15
Excl VAT
(£46.59

incl VAT

)
Live prices currently unavailable, list price shown.
Solid carbide-micro-twist drill, hsc/hhc < 52 hrc.
Solid carbide-Micro-twist drill, HSC/HHC < 52 HRC.
DVC-X2² NANO-FINISH Coating
For drilling in steel up to 52 HRC.
Coating technology: Sputtering
Micro hardness: 3500 HV0.05
Coating material: TiAlN
Coating thickness: Diameter-related
Max. operating temperature: 1000 degrees C
This universally applicable DVC-X2² Nano-Finish coating is very well suited for drilling up to 52 HRC. Due to the additional finishing of the already droplet-free coating, an optimal chip transport is guaranteed.
There are no download types with downloads for this product.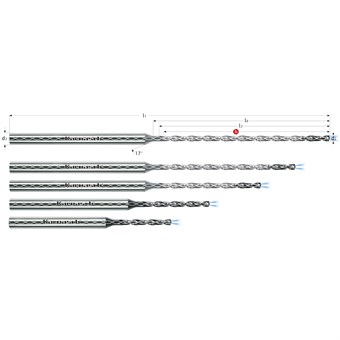 220322_P
Mini solid carbide twist drill < 30xd.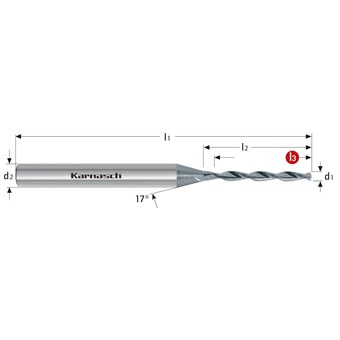 220360_P
Over 6% si until 12% si we recommend our nhc 7000 coating.
Product Code
D1 (mm)
D2 (mm)
L3 (mm)
L2 (mm)
L1 (mm)
L4 (mm)
Coating
Metric / Imp.
Version
Coating
TiAlN/DVC-X2 (Nano Finish)
Coating
TiAlN/DVC-X2 (Nano Finish)
Coating
TiAlN/DVC-X2 (Nano Finish)
Coating
TiAlN/DVC-X2 (Nano Finish)
Coating
TiAlN/DVC-X2 (Nano Finish)
Coating
TiAlN/DVC-X2 (Nano Finish)
Coating
TiAlN/DVC-X2 (Nano Finish)
Coating
TiAlN/DVC-X2 (Nano Finish)
Coating
TiAlN/DVC-X2 (Nano Finish)
Coating
TiAlN/DVC-X2 (Nano Finish)
Coating
TiAlN/DVC-X2 (Nano Finish)
Coating
TiAlN/DVC-X2 (Nano Finish)
Coating
TiAlN/DVC-X2 (Nano Finish)
Coating
TiAlN/DVC-X2 (Nano Finish)
Coating
TiAlN/DVC-X2 (Nano Finish)
Coating
TiAlN/DVC-X2 (Nano Finish)
Coating
TiAlN/DVC-X2 (Nano Finish)
Coating
TiAlN/DVC-X2 (Nano Finish)
Coating
TiAlN/DVC-X2 (Nano Finish)
Coating
TiAlN/DVC-X2 (Nano Finish)
Coating
TiAlN/DVC-X2 (Nano Finish)
Coating
TiAlN/DVC-X2 (Nano Finish)
Coating
TiAlN/DVC-X2 (Nano Finish)
Coating
TiAlN/DVC-X2 (Nano Finish)
Coating
TiAlN/DVC-X2 (Nano Finish)
Coating
TiAlN/DVC-X2 (Nano Finish)
Coating
TiAlN/DVC-X2 (Nano Finish)
Coating
TiAlN/DVC-X2 (Nano Finish)
Coating
TiAlN/DVC-X2 (Nano Finish)
Coating
TiAlN/DVC-X2 (Nano Finish)
Coating
TiAlN/DVC-X2 (Nano Finish)
Coating
TiAlN/DVC-X2 (Nano Finish)
Coating
TiAlN/DVC-X2 (Nano Finish)
Coating
TiAlN/DVC-X2 (Nano Finish)
Coating
TiAlN/DVC-X2 (Nano Finish)
Coating
TiAlN/DVC-X2 (Nano Finish)
Coating
TiAlN/DVC-X2 (Nano Finish)
Coating
TiAlN/DVC-X2 (Nano Finish)
Coating
TiAlN/DVC-X2 (Nano Finish)
Coating
TiAlN/DVC-X2 (Nano Finish)
Coating
TiAlN/DVC-X2 (Nano Finish)
Coating
TiAlN/DVC-X2 (Nano Finish)
Coating
TiAlN/DVC-X2 (Nano Finish)
Coating
TiAlN/DVC-X2 (Nano Finish)
Coating
TiAlN/DVC-X2 (Nano Finish)
Coating
TiAlN/DVC-X2 (Nano Finish)
Coating
TiAlN/DVC-X2 (Nano Finish)
Coating
TiAlN/DVC-X2 (Nano Finish)
Coating
TiAlN/DVC-X2 (Nano Finish)
Coating
TiAlN/DVC-X2 (Nano Finish)
Coating
TiAlN/DVC-X2 (Nano Finish)
Coating
TiAlN/DVC-X2 (Nano Finish)
Coating
TiAlN/DVC-X2 (Nano Finish)
Coating
TiAlN/DVC-X2 (Nano Finish)
Coating
TiAlN/DVC-X2 (Nano Finish)
Coating
TiAlN/DVC-X2 (Nano Finish)
Coating
TiAlN/DVC-X2 (Nano Finish)
Coating
TiAlN/DVC-X2 (Nano Finish)
Coating
TiAlN/DVC-X2 (Nano Finish)
Coating
TiAlN/DVC-X2 (Nano Finish)
Coating
TiAlN/DVC-X2 (Nano Finish)
Coating
TiAlN/DVC-X2 (Nano Finish)
Coating
TiAlN/DVC-X2 (Nano Finish)
Coating
TiAlN/DVC-X2 (Nano Finish)
Coating
TiAlN/DVC-X2 (Nano Finish)
Coating
TiAlN/DVC-X2 (Nano Finish)
Coating
TiAlN/DVC-X2 (Nano Finish)
Coating
TiAlN/DVC-X2 (Nano Finish)
Coating
TiAlN/DVC-X2 (Nano Finish)
Coating
TiAlN/DVC-X2 (Nano Finish)
Coating
TiAlN/DVC-X2 (Nano Finish)
Coating
TiAlN/DVC-X2 (Nano Finish)
Coating
TiAlN/DVC-X2 (Nano Finish)
Coating
TiAlN/DVC-X2 (Nano Finish)
Coating
TiAlN/DVC-X2 (Nano Finish)
Coating
TiAlN/DVC-X2 (Nano Finish)
Coating
TiAlN/DVC-X2 (Nano Finish)
Coating
TiAlN/DVC-X2 (Nano Finish)
Coating
TiAlN/DVC-X2 (Nano Finish)
Coating
TiAlN/DVC-X2 (Nano Finish)
Coating
TiAlN/DVC-X2 (Nano Finish)
Coating
TiAlN/DVC-X2 (Nano Finish)
Coating
TiAlN/DVC-X2 (Nano Finish)
Coating
TiAlN/DVC-X2 (Nano Finish)
Coating
TiAlN/DVC-X2 (Nano Finish)
Coating
TiAlN/DVC-X2 (Nano Finish)
Coating
TiAlN/DVC-X2 (Nano Finish)
Coating
TiAlN/DVC-X2 (Nano Finish)
Coating
TiAlN/DVC-X2 (Nano Finish)
Coating
TiAlN/DVC-X2 (Nano Finish)
Coating
TiAlN/DVC-X2 (Nano Finish)
Coating
TiAlN/DVC-X2 (Nano Finish)
Coating
TiAlN/DVC-X2 (Nano Finish)
Coating
TiAlN/DVC-X2 (Nano Finish)
Coating
TiAlN/DVC-X2 (Nano Finish)
Coating
TiAlN/DVC-X2 (Nano Finish)
Coating
TiAlN/DVC-X2 (Nano Finish)
Coating
TiAlN/DVC-X2 (Nano Finish)
Coating
TiAlN/DVC-X2 (Nano Finish)
Coating
TiAlN/DVC-X2 (Nano Finish)
Coating
TiAlN/DVC-X2 (Nano Finish)
Coating
TiAlN/DVC-X2 (Nano Finish)
Coating
TiAlN/DVC-X2 (Nano Finish)
Coating
TiAlN/DVC-X2 (Nano Finish)
Coating
TiAlN/DVC-X2 (Nano Finish)
Coating
TiAlN/DVC-X2 (Nano Finish)
Coating
TiAlN/DVC-X2 (Nano Finish)
Coating
TiAlN/DVC-X2 (Nano Finish)
Coating
TiAlN/DVC-X2 (Nano Finish)
Coating
TiAlN/DVC-X2 (Nano Finish)
Coating
TiAlN/DVC-X2 (Nano Finish)
Coating
TiAlN/DVC-X2 (Nano Finish)
Coating
TiAlN/DVC-X2 (Nano Finish)
Coating
TiAlN/DVC-X2 (Nano Finish)
Coating
TiAlN/DVC-X2 (Nano Finish)
Coating
TiAlN/DVC-X2 (Nano Finish)
Coating
TiAlN/DVC-X2 (Nano Finish)
Coating
TiAlN/DVC-X2 (Nano Finish)
Coating
TiAlN/DVC-X2 (Nano Finish)
Coating
TiAlN/DVC-X2 (Nano Finish)
Coating
TiAlN/DVC-X2 (Nano Finish)
Coating
TiAlN/DVC-X2 (Nano Finish)
Coating
TiAlN/DVC-X2 (Nano Finish)
Coating
TiAlN/DVC-X2 (Nano Finish)
Coating
TiAlN/DVC-X2 (Nano Finish)
Coating
TiAlN/DVC-X2 (Nano Finish)
Coating
TiAlN/DVC-X2 (Nano Finish)
Coating
TiAlN/DVC-X2 (Nano Finish)
Coating
TiAlN/DVC-X2 (Nano Finish)
Coating
TiAlN/DVC-X2 (Nano Finish)
Coating
TiAlN/DVC-X2 (Nano Finish)
Coating
TiAlN/DVC-X2 (Nano Finish)