|
|
|
|
Rotary Burr, KEL, Ball Nosed Cone, HP7 Cut, Uncoated
Rotary Burr, KEL, Ball Nosed Cone, HP7 Cut, Uncoated
For coarse cutting and the highest removal for materials such as aluminium alloys, light metals, soft copper, copper alloys, non-ferrous metals, plastics, fibre-reinforced plastics and gfk/cfk.
PRODUCT DETAILS:
HP-7-CUT
Technical specification:
For coarse cutting and hightest material removal
For material, such as:

Aluminium alloy
Light metals
Soft copper and copper alloys [non-ferrous metals]
Plastics
Fibre-reinforced plastics [GFK/CFK]
There are no download types with downloads for this product.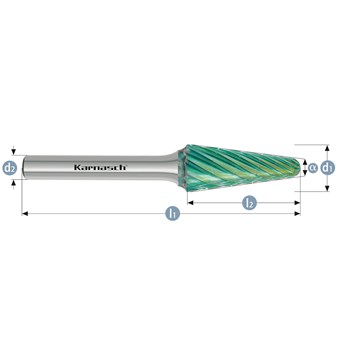 116098_P
The revolutionary new universal hp3-pro cutting style offers up to 82% more material removal than our usual hp-3 universal cutting style. Almost vibration-free and controlled work even under tough roughing conditions.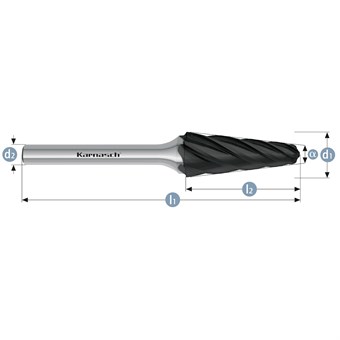 115085_P
Black-tec coating is specifically designed for non-ferrous materials. Low friction and excellent chip clearance characteristics reduce clogging of the flutes.
Product Code
D1 (mm)
D2 (mm)
L2 (mm)
L1 (mm)
Coating
Shape
Cut Type
Burr Construction
Metric / Imp.
Version
Version
HP7, for Non-Ferrous & Plastics
Version
HP7, for Non-Ferrous & Plastics
Version
HP7, for Non-Ferrous & Plastics
Version
HP7, for Non-Ferrous & Plastics
Version
HP7, for Non-Ferrous & Plastics
Version
HP7, for Non-Ferrous & Plastics
Version
HP7, for Non-Ferrous & Plastics
Version
HP7, for Non-Ferrous & Plastics
Version
HP7, for Non-Ferrous & Plastics