|
|
|
|
Rotary Burr, SKM, Cone, HP3 Cut, Blue-Tec Coated
Rotary Burr, SKM, Cone, HP3 Cut, Blue-Tec Coated
The patented blue-tec coating, specifically designed for burrs gives outstanding tool life and excellent performance on all metals. This, the most widely used simple cutting style gives high cutting performance with a good surface finish.
No product information provided
There are no download types with downloads for this product.
113091_P
The most widely used universal cutting style. High quality cutting action through cross cutting style.Smooth operation and short chips. For use on all ferrous materials such as cast iron, steel less than 60 hrc, stainless steel (inox), nickel basis, etc.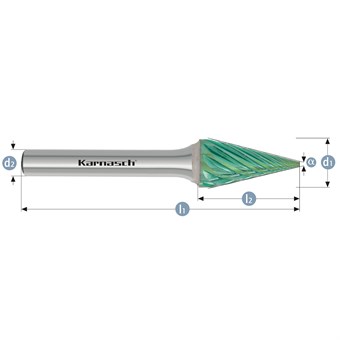 116099_P
The revolutionary new universal hp3-pro cutting style offers up to 82% more material removal than our usual hp-3 universal cutting style. Almost vibration-free and controlled work even under tough roughing conditions.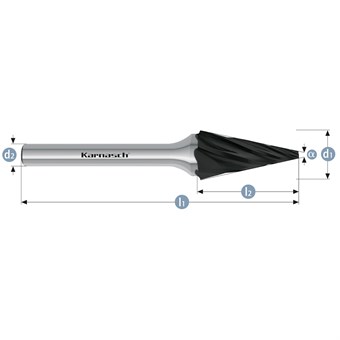 115095_P
Black-tec coating is specifically designed for non-ferrous materials. Low friction and excellent chip clearance characteristics reduce clogging of the flutes.
Product Code
D1 (mm)
D2 (mm)
L2 (mm)
L1 (mm)
Burr Construction