|
|
|
|
|
KX Coated Metal Circular Saw Blade
KX Coated Metal Circular Saw Blade
For steel/stainless steel 1200 n/mm2cast iron, bronze, zinc alloy, inconel hss-co5, strongly alloyed high speed steel with content of wolfram, molybdenum and cobalt. Cobalt obstructs critical grain growth and above all, maintains an excellent degree of hardness at high operating temperatures.
No product information provided
There are no download types with downloads for this product.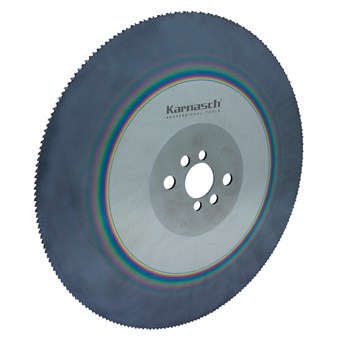 51040_P
For steel/stainless steel < 800 n/mm2 aluminium, copper, brass hss-dmo5, high-speed steel which includes vanadium, wolfram and molybdenum. This results to, very good mechanical characteristics and excellent strength with a hardness of 64 &plusmn; 1hrc. Kx coating, provides much longer tool life than.
Product Code
Blade Diam. (mm)
Blade Bore (mm)
Blade Cut Width (mm)
Blade Teeth
Blade Pinholes
Blade Pinholes
2/8/45 + 2/9/50 + 2/11/63
Blade Pinholes
2/8/45 + 2/9/50 + 2/11/63
Blade Pinholes
2/8/45 + 2/9/50 + 2/11/63
Blade Pinholes
2/8/55 + 4/11/63
Blade Pinholes
2/8/55 + 4/11/63
Blade Pinholes
2/8/55 + 4/11/63
Blade Pinholes
2/8/45 + 2/9/50 + 2/11/63
Blade Pinholes
2/8/45 + 2/9/50 + 2/11/63
Blade Pinholes
2/8/45 + 2/9/50 + 2/11/63
Blade Pinholes
2/8/45 + 2/9/50 + 2/11/63
Blade Pinholes
2/8/45 + 2/9/50 + 2/11/63
Blade Pinholes
2/8/45 + 2/9/50 + 2/11/63
Blade Pinholes
2/8/55 + 4/12/64
Blade Pinholes
2/8/45 + 2/9/50 + 2/11/63
Blade Pinholes
2/8/45 + 2/9/50 + 2/11/63
Blade Pinholes
2/8/45 + 2/9/50 + 2/11/63
Blade Pinholes
2/8/55 + 4/12/64
Blade Pinholes
2/8/55 + 4/12/64
Blade Pinholes
2/8/55 + 4/12/64
Blade Pinholes
2/8/45 + 2/9/50 + 2/11/63
Blade Pinholes
2/8/45 + 2/50 + 2/11/63
Blade Pinholes
2/8/45 + 2/9/50 + 2/11/63
Blade Pinholes
2/8/55 + 4/12/64
Blade Pinholes
2/8/55 + 4/12/64
Blade Pinholes
2/8/45 + 2/9/50 + 2/11/63
Blade Pinholes
2/8/45 + 2/9/50 + 2/11/63
Blade Pinholes
2/8/45 + 2/9/50 + 2/11/63
Blade Pinholes
2/8/45 + 2/9/50 + 2/11/63
Blade Pinholes
2/8/45 + 2/9/50 + 2/11/63
Blade Pinholes
2/8/45 + 2/9/50 + 2/11/63
Blade Pinholes
2/8/55 + 4/12/64
Blade Pinholes
2/8/55 + 4/12/64
Blade Pinholes
2/8/55 + 4/12/64
Blade Pinholes
2/8/55 + 4/12/64
Blade Pinholes
2/8/55 + 4/12/64
Blade Pinholes
2/8/45 + 2/9/50 + 2/11/63
Blade Pinholes
2/8/45 + 2/9/50 + 2/11/63
Blade Pinholes
2/8/45 + 2/9/50 + 2/11/63
Blade Pinholes
2/8/45 + 2/9/50 + 2/11/63
Blade Pinholes
2/8/45 + 2/9/50 + 2/11/63
Blade Pinholes
2/8/45 + 2/9/50 + 2/11/63
Blade Pinholes
2/8/45 + 2/9/50 + 2/11/63
Blade Pinholes
2/8/45 + 2/9/50 + 2/11/63
Blade Pinholes
2/8/45 + 2/9/50 + 2/11/63
Blade Pinholes
2/8/45 + 2/9/50 + 2/11/63
Blade Pinholes
2/8/55 + 4/12/64
Blade Pinholes
2/8/55 + 4/12/64
Blade Pinholes
2/8/55 + 4/12/64
Blade Pinholes
2/8/55 + 4/12/64
Blade Pinholes
2/8/55 + 4/12/64
Blade Pinholes
2/8/45 + 2/9/50 + 2/11/63
Blade Pinholes
2/8/45 + 2/9/50 + 2/11/63
Blade Pinholes
2/8/45 + 2/9/50 + 2/11/63
Blade Pinholes
2/8/45 + 2/9/50 + 2/11/63
Blade Pinholes
2/8/45 + 2/9/50 + 2/11/63
Blade Pinholes
2/8/45 + 2/9/50 + 2/11/63
Blade Pinholes
2/8/55 + 4/12/64
Blade Pinholes
2/8/55 + 4/12/64
Blade Pinholes
2/8/55 + 4/12/64
Blade Pinholes
2/8/55 + 4/12/64
Blade Pinholes
2/8/55 + 4/12/64
Blade Pinholes
2/8/55 + 4/12/64
Blade Pinholes
2/8/55 + 4/12/64