|
|
|
|
1 - 9/16 Inch Carbide Tipped Annular Cutters, Weldon Shank
1 - 9/16 Inch Carbide Tipped Annular Cutters, Weldon Shank
Carbide-tipped annular cutter, weldon shank, drill depth 40mm.
No product information provided
There are no download types with downloads for this product.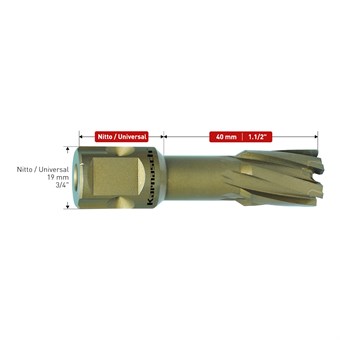 201630_P
Available in diameter 12-150 mm. Available in cutting depths 40 mm, 55 mm, 80 mm and 110 mm. Simply the world's largest stock range of carbide tipped annular cutters. Karnasch carbide tipped annular cutter hard-line are made with a conical helix for clean chip flow and highest cutting ability.
Product Code
D1 (Diam. Imperial)
D2 Imperial
Fitting
Length 3 Imperial
D1 (Diam. Imperial)
1/2 Inch
Length 3 Imperial
1 - 9/16 Inch
D1 (Diam. Imperial)
9/16 Inch
Length 3 Imperial
1 - 9/16 Inch
D1 (Diam. Imperial)
5/8 Inch
Length 3 Imperial
1 - 9/16 Inch
D1 (Diam. Imperial)
11/16 Inch
Length 3 Imperial
1 - 9/16 Inch
D1 (Diam. Imperial)
3/4 Inch
Length 3 Imperial
1 - 9/16 Inch
D1 (Diam. Imperial)
13/16 Inch
Length 3 Imperial
1 - 9/16 Inch
D1 (Diam. Imperial)
7/8 Inch
Length 3 Imperial
1 - 9/16 Inch
D1 (Diam. Imperial)
15/16 Inch
Length 3 Imperial
1 - 9/16 Inch
D1 (Diam. Imperial)
1 Inch
Length 3 Imperial
1 - 9/16 Inch
D1 (Diam. Imperial)
17/16 Inch
Length 3 Imperial
1 - 9/16 Inch
D1 (Diam. Imperial)
1 - 1/8 Inch
Length 3 Imperial
1 - 9/16 Inch
D1 (Diam. Imperial)
1 - 3/16 Inch
Length 3 Imperial
1 - 9/16 Inch
D1 (Diam. Imperial)
1 - 1/4 Inch
Length 3 Imperial
1 - 9/16 Inch
D1 (Diam. Imperial)
1 - 5/16 Inch
Length 3 Imperial
1 - 9/16 Inch
D1 (Diam. Imperial)
1 - 3/8 Inch
Length 3 Imperial
1 - 9/16 Inch
D1 (Diam. Imperial)
1 - 7/16 Inch
Length 3 Imperial
1 - 9/16 Inch
D1 (Diam. Imperial)
1 - 1/2 Inch
Length 3 Imperial
1 - 9/16 Inch
D1 (Diam. Imperial)
1 - 9/16 Inch
Length 3 Imperial
1 - 9/16 Inch
D1 (Diam. Imperial)
1 - 5/8 Inch
Length 3 Imperial
1 - 9/16 Inch
D1 (Diam. Imperial)
1 - 11/16 Inch
Length 3 Imperial
1 - 9/16 Inch
D1 (Diam. Imperial)
1 - 3/4 Inch
Length 3 Imperial
1 - 9/16 Inch
D1 (Diam. Imperial)
1 - 13/16 Inch
Length 3 Imperial
1 - 9/16 Inch
D1 (Diam. Imperial)
1 - 7/8 Inch
Length 3 Imperial
1 - 9/16 Inch
D1 (Diam. Imperial)
1 - 15/16 Inch
Length 3 Imperial
1 - 9/16 Inch
D1 (Diam. Imperial)
2 Inch
Length 3 Imperial
1 - 9/16 Inch
D1 (Diam. Imperial)
2 - 1/16 Inch
Length 3 Imperial
1 - 9/16 Inch