20 Piece Mini-Cut hole saw kit
212000 |
Dispatch Date: TBC
€338.50
Excl VAT
(€338.50

incl VAT

)
Mini hole saw and spotweld cutter. Hss-m2 mini-cut hole saw for portable machines, cordless drills. Tin-gold coating for considerably longer service life also when machining dry no/little cooling.
No product information provided
There are no download types with downloads for this product.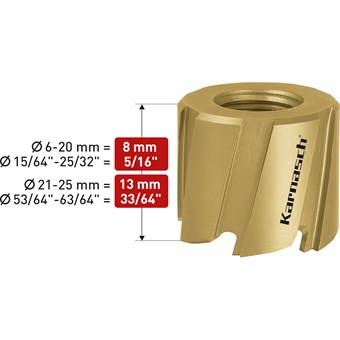 211000_P
The "mini-cut" hss+tin coated hole saws and spot weld cutter already starting with diameter 6 mm for hand-guided machines and cordless drills. Every "mini-cut" is coated with our proven tin-gold coating for a substantial increase of lifetime even while dry cutting (no/little cooling).